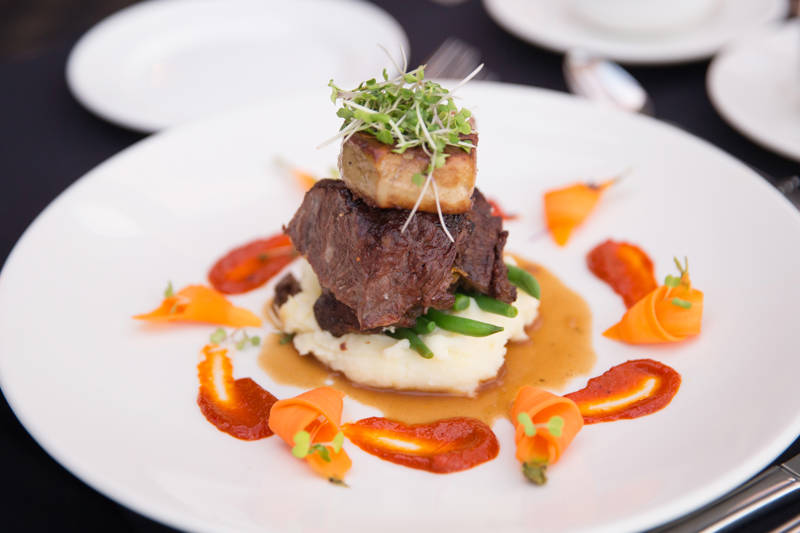 Dinner Cruise
2023 Season
Menu
Aperitif (included with the Red Carpet and the Signature options)
Raspberry Bulles Rosé from the Coteau Rougemont vineyard
A bottle of wine for two people (included in the Tapis Rouge or Signature package) 
Starter (included with the 5-course, Red Carpet and Signature options)
Crab and smoked Gaspesian salmon tartlet, black garlic aioli and lemon pearls with pepper
Appetizer
Duck confit salad, Cantons de l'Est goat cheese, apple and sea buckthorn vinaigrette
Prelude (included with the 5-course, Red Carpet and Signature options)
Chicken liver mousse, Sainte-Catherine-de-Hatley onion confit and crostini
Main Course
Every dish is served with farmers' market fresh vegetables and a potato gratin.
Braised beef cheek with red wine from Gagliano vineyard and fresh thyme
Roasted Atlantic salmon steak, beurre blanc with Laurentian wild mustard
Chicken Supreme, honey sauce from Anicet de Ferme-Neuve and rosemary
Canadian beef tenderloin, Lac-Saint-Jean dune pepper sauce and grey shallot*
*Valid for the Red Carpet and Signature options. These options also include a lobster tail with olive oil clarified butter and Québec garlic flower as an accompaniment to the meal.
Have you opted for the 3 or 5 course formula and would like to add a lobster tail to your meal? Ask your server on board! ($)
Trio of fine Quebec cheeses ($) 
Dessert
Crispy chocolate cake, raspberry and local wild blueberry coulis
Digestif (included with the Red Carpet and Signature options)
Sortilège Maple Cream or Whisky
LBV Port
Sommerlier's selection included in the Signature menu
Coffee, tea, herbal tea
Vegan and gluten-free options are available.
Menu could change without notice. We cannot guarantee that food and meals served on board are free of allergens.