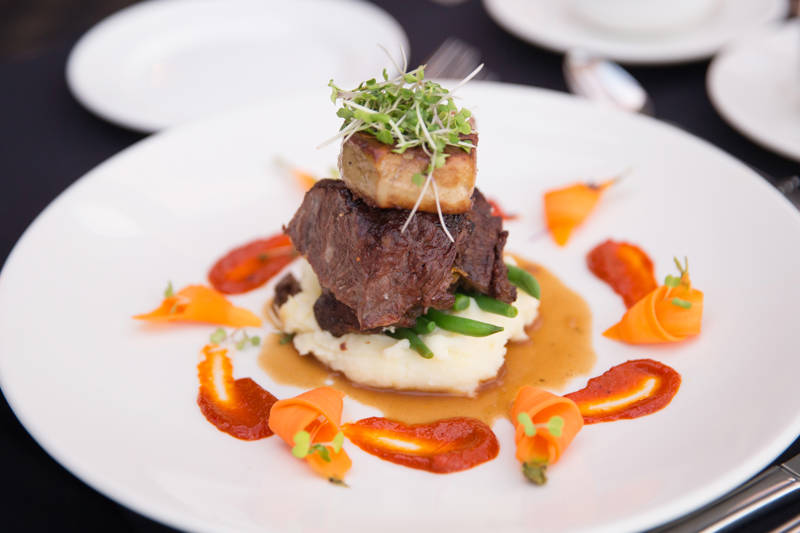 Aperitif (included with the Red Carpet and Signature options)
Coteau Rougemont Sparkling Wine
Amuse-bouche (included with the 5-course, Red Carpet and Signature options)
Nordic shrimp and snow crab, quinoa infused with Neigette, Haute voltige's black tea
Apetizer
Pulled wapiti, goat cheese, cranberries from Quebec, and candied turnip with pink peppercorns
Prelude (included with the 5-course, Red Carpet and Signature options)
Blueberry and maple rabbit terrine, apple jelly from the Pommalbonne Orchards, in the Cantons-de l'Est region and blackberry powder
A bottle of wine for two (included with the Red Carpet and Signature options)
Main Course
Every dish is served with farmers' market vegetables and a potato gratin.
Supreme of poultry sleeves, pickled oyster mushrooms sauce seasoned with boreal herbs
Roasted Atlantic salmon steak, beurre blanc with grey shallots and salicornia mustard
Coteau Rougemont's Red wine braised beef cheek with Melilot flakes from the Gaspésie region
Beef filet and sauce au poivre from the Lac-Saint-Jean dunes*
*Valid for the Signature and Red Carpet options only. These options also include a lobster tail, with olive oil and clarified garlic scape butter from Quebec.
You chose the 3 or 5-course option and would like to add a lobster tail to your meal? Ask your waiter on board! ($)
Gourmet cheese trio from Quebec (included with the Signature option only)
Dessert
Crispy chocolate strip cake with raspberry-coulis and local wild blueberries
Digestif (included with the Red Carpet and Signature options)
LBV Port
Sortilège Maple Cream or Whisky
Coffee, tea, herbal tea
Vegan and gluten-free options are available. Menu could change without notice.