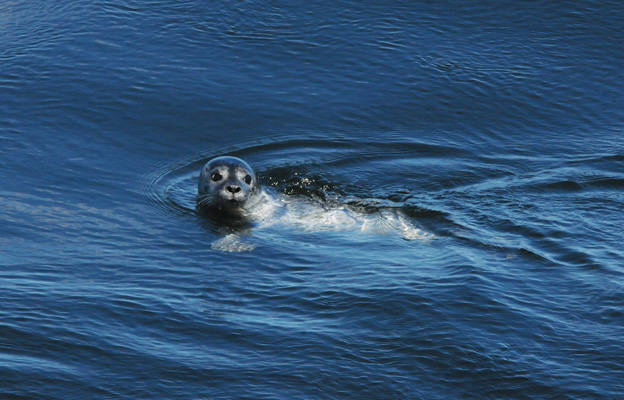 Sustainable development at Croisières AML
Founded in 1972, Croisières AML is a family-owned company that aspires to grow in a long-term perspective, where its development is in line with its current objectives and those of future generations.
Concerned about its ecological and social environment, Croisières AML has chosen to invest in the sustainable development of its activities and to actively commit to concrete environmental, social and economic actions.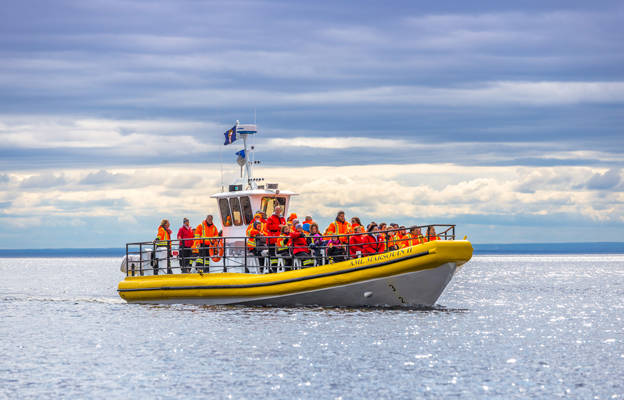 With nearly 50 years of experience navigating the St. Lawrence River, Croisières AML launched a new generation of zodiacs designed specifically for marine mammal watching in August 2017.
The AML Marsouins I and II, with a capacity of 60 passengers, were built entirely in Quebec with the goal of improving the passenger experience, while helping to reduce the environmental footprint of at-sea observation (AOM) activities, as advocated by the Eco Whale Alliance.
We are involved
Environmental implications

Development of a wastewater treatment system that exceeds standards, in collaboration with Premier Tech Water and Environment and NAVTECH
Reduction of drinking water consumption, notably on the AML Cavalier Maxim, docked at the Port of Montreal, whose modifications have allowed a 75% reduction in its annual fresh water use
Reduction of plastic consumption on board ships by offering an alternative to disposable water bottles and by systematically recovering plastics
Production of reusable fabric lunch boxes for cruise passengers
Shore power for the ships' equipment thanks to Hydro-Québec's electrical network
Member of Green Marine, an environmental certification program for the North American marine industry, and holder of the Level 5 recognition, the highest level of performance on underwater noise
Member of the Board of Directors of the Quebec City and Chaudière-Appalaches ZIP (priority intervention zone) Committee, whose mission is to mobilize and promote cooperation among local stakeholders towards actions to enhance and rehabilitate the St. Lawrence River in its territory.

Preservation of the marine environment

Co-founder of the Eco Whale Alliance, an organization committed to adopting eco-responsible practices during whale watching excursions at sea to make it the best model of sustainable use in the world
Development of a code of ethics for whale watching and respect for the marine environment in the Saguenay-St. Lawrence Marine Park, with the members of the Eco Whale Alliance
Modernization of equipment to reduce the production of greenhouse gases, in particular by creating two new 60-passenger Zodiacs
Compliance with the regulations on activities at sea in the Saguenay-St. Lawrence Marine Park
Financial and technical involvement in non-profit organizations that help Quebec's marine wildlife (GREMM, Fondation de la faune du Québec, Alliance Éco-baleine).

Social implications

Creation of the Eco Whale Fund, which supports research, training and education activities related to whale watching activities at sea
Support for employee health and safety through the implementation of work procedures that meet high health and safety standards
Continuous employee development through internal and external training
Active involvement with several events and organizations through a sponsorship program (Beluga Trail, Exploramer, etc.)

Economic implications

Creation of more than 100 partnerships with tourist attractions, hotels, suppliers, etc;
Commitment to local and responsible nautical and food suppliers;
Implementation of a business strategy based on the concept of continuous improvement;
Perpetuation of the company's sustainability and its environment through a balanced portfolio of profitable projects at different periods.