By continuing to browse, you accept the use of "cookies" to improve your experience and to perform navigation statistics. Learn more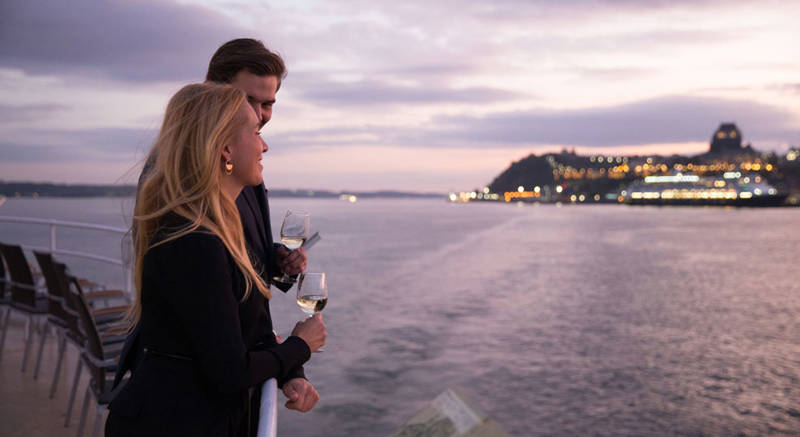 We have the solution for your event
Our customized cruises are ideal for corporate groups and our ships, spacious and versatile, will make your event a guaranteed success. Enjoy an excursion on the Saint-Laurent River and combine sightseeing tour, gastronomic meal and corporate convention. Give us the pleasure to help you plan, organize and throw your activity! 
A qualified and professional crew

A 100% customizable turnkey offer

A tailor-made catering service

A breathtaking view of the St. Lawrence coastline
What awaits you
Deck or whole boat charter

Sound technician and audiovisual service on board

Proposal of various activities

Animation on request

Tailor-made schedule
Available in multiple cities
Need to organize an event in another city?
Private group events can be organized on all our boats, departing from Quebec City, Montreal, Tadoussac, Baie-Ste-Catherine (Charlevoix) and Berthier-sur-Mer. But, it is also possible to plan a departure in all cities that have a wharf with safe access to the St. Lawrence.
Additional Information
Restrictions

It is not possible to bring your own alcohol for consumption on board.
It is not allowed to smoke on board our boats.
Electronic cigarettes are not allowed on board our boats.

Parking

There are several parking lots near the cruise terminals.
Depending on the location of your cruise, they may be free or paid.
Frequently Asked Questions
What is the maximum capacity of the different boats?

Our capacity is highly variable and we can accommodate between 20 and 1000 people depending on the ship!

Would you like more information about the accommodation capacities of our different boats? Consult the capacities of our ships

What are the menus options for a group reservation?

Brunch, 3 course lunch, 3 or 5 course Dinner Cruise, cocktail reception: several options are available for a custom event. Contact our representatives for more information.

What are the available options to buy alcohol on board?

It is possible to buy coupons in advance for your group, to ask for one bill on board or to get individual bills for each drink. 

What audiovisual equipment is included with the charter of a boat?

Every room on our boats is equipped with a sound system, and screens are available on every deck. More equipment like easels, microphones and lecterns can be available on demand. 

Are the boarding decks easily accessible?

In Montreal, the boarding deck is at the Grand Quai. Parking and bus drop-off are available. It is also accessible by public transport. In Quebec City, the boarding deck is at Quai Chouinard, it is accessible by public transport and is close to the ferry services between Lévis and Quebec City. It is also near the Dalhousie parking lot and the marché Champlain bus drop-off. 

Would you like more information about our various boarding points ?Consult our boarding points
You would like to speak with a representative?
Newsletter
Please fill out this form to receive our newsletter.